I had an interesting thought the other day as I was stressing out about this, that, and the other thing (mostly the other thing), and I'm not quite sure how it's going to work out. Like most thoughts rife with uncertainty, though, the best way to figure it out is to just go ahead and give it a try. So I'm really excited to announce that I will be doing a fundraiser to help support this year's volume of World Unknown Review.
Here's how it works:
1. Visit the Fundraiser's GoFundMe page.
2. Donate any amount you wish. 1 dollar = 1 entry for the prize package.
3. Share it with your friends! Well, you don't have to do this part, but spreading the word is always a really nice and greatly appreciated. You can just use this link to get to the campaign: http://http://www.gofundme.com/ed3a6u9k
4. Wait until October 1st, when the winner is randomly selected.
That's it! Pretty easy, right? Unfortunately, due to cost, you must have a US mailing address to be eligible for the contest, but I will happily accept donations (duh-doy). Here's the sweet prize you can potentially win: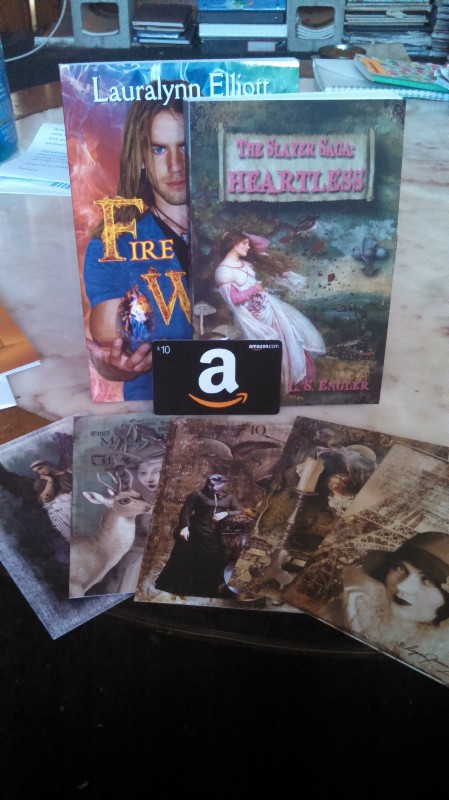 -A signed copy of The Slayer Saga: Heartless by yours truly
-A copy of Fire Wizard by Lauralynn Elliott, which is featured in Heartless
-Five incredibly beautiful postcards by my cover artist Ingrid Pomeroy
-A $10 Amazon gift card
You've got to admit, those spoils ain't so bad. So please, if you can, consider donating even just a little bit, because every dollar counts, and spread the word about the fund raiser if you can. I will be accepting donations until September 30th and the winner will be announced October 1.
Wish me luck! Happy reading!
(By the way, you have until October 31st to