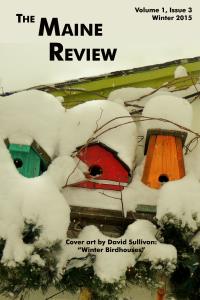 The Maine Review Volume 1, Issue 3, Winter 2015
Some of you already knew that one of my stories, "Flesh and Feathers," (which also makes an appearance in my short story collection Bowlful of Bunnies) was published earlier this year by The Maine Review for their Winter 2015 edition, a particularly exciting event that broke a long, long streak of a whole lot of rejection. Well, I'm happy to say that I've finally read through the journal as a whole, and I found it rather delightful. It's a slim volume, which makes the higher price a little unfortunate, but I did enjoy a good handful of the stories. It's a hodge-podge of creative non-fiction, poetry, and short stories. The whole thing made me want to trek out to the East Coast again, which I haven't done in a while.
For me, the truly outstanding pieces of the collection come from Shelley Burbank and Jim Krosschell. The first brought us "Escape, U.S.A.", which still sticks with me even though I read it months ago, about a mother's difficulty coping with raising her sick son, which may be well worth the price of admission, while the latter piece is creative non-fiction about humanity and nature and beautiful houses on the seashore, three things that are guaranteed to get me every time. There's also a pretty stunning piece from Mara Buck entitled "From Chaos Comes the Poetry of Memoir" that very wonderfully encapsulates the way words can swipe an author away and create something beautiful in the maelstrom.
You can order copies of The Maine Review, including the Winter 2015 edition in which my story is published, here or you can be a part of the next edition by submitting your work here. They are currently open for their Rocky Coast Writing Contest, which closes June 30th. There is a $10 fee, but the possibility of a $100 prize and publication even if you aren't the winner ("Flesh and Feathers" was submitted for the contest; while it didn't win, it did make it into the final publication).
I definitely think I'll keep The Maine Review in mind for future submissions; while they like to keep up a theme about Maine life and landscape there, they definitely don't restrict their selections to that topic. There was a good mix of Maine and pieces about writing in the Winter 2015 edition, as well as a few other miscellaneous things (my own piece took place on a misty lake surrounded by mountains, which could be Maine, or it could be somewhere else entirely). They do not publish genre fiction, but my story involved some magic, so a little touch is not strictly refused. Give them a look if you get the chance!